SunsetRidge Luxury Lofts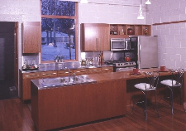 A Minnetonka Housing renaissance has begun. SunsetRidge Luxury Lofts offers a new and very distinct alternative to your housing desires. Ultra contemporary architecture and furnishings have placed SunsetRidge quantum leaps from existing rental choices. Our owners and designers have incorporated thoughts and ideas from around the world and brought them to Minnetonka.
Sunset Ridge is not just shelter. It is meant for people that appreciate the creativity of our species and crave the desire to express their own creativity as well. Sharing ideas with friends, resources, and even other cultures allow us to make a statement about who we are and where we want, or don't want to fit in. Our philosophy encourages people to be creative with the way they live. SunsetRidge Luxury Lofts are located 5 minutes from Ridgedale Mall.